The annual Chinese Lunar New Year is drawing to a close with firecrackers, laughter and blessings. The company and colleagues ushered in the New Year together. QINGDAO HF MACHINERY CO.,LTD held the mobilization meeting on February 8, 2022, and announced the official start of work.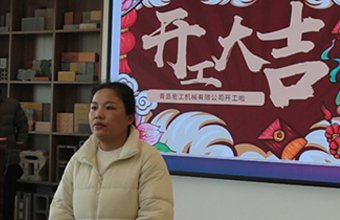 This post-holiday mobilization meeting was presided over by Manager Yu.
Before the conference, colleagues entered the conference room and received red envelopes, roses and other New Year gifts prepared by the company.
They also expressed their best wishes for the company's development in the New Year.
Then, Manager Yu took the lead in sharing the New Year's fun, and my colleagues also shared the interesting things that happened during the New Year holiday.
After the laughter, Manager Wang prepared a speech on the theme of dreams for us and encouraged every colleague to make plans and goals for the New Year and the future.In the end, Manager Wang on behalf of the company expressed the New Year's expectations, put forward the new requirements of the New Year's work and staff mobilization.
In the past year, under the leadership of the company, colleagues constantly overcome difficulties and break through innovation, and the sales performance of brick making machine has reached a new level compared with last year. Such good results can not be separated from the cooperation and unremitting efforts of all colleagues. 2022 is a new beginning, QINGDAO HF MACHINERY CO.,LTD will continue to provide higher quality services and products to our customers.
QINGDAO HF MACHINERY CO.,LTD also wishes our partners and friends a prosperous business and a wide range of financial resources.